Wilson States Case for Seahawks Starting Job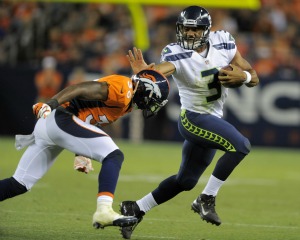 Russell Wilson got his first start in an NFL game on Friday night, looking to make Pete Carroll's job of picking the starter for week one of the regular season just that much harder. Well, "Mission Accomplished" so to speak.
Wilson threw for 185 yards and 2 touchdowns as Seattle cruised past Kansas City in week three of the NFL preseason. He went 13-19 passing and had 2 carries for 58 yards. With the victory the Seahawks remain undefeated in preason play (but who really cares about that, right?).
The first touchdown of the game was a 21 yard pass to tight end Kellen Winslow and Wilson followed that up with an 11 yard pass to wide receiver Charly Martin.
That kind of efficient play in a game that saw both teams playing their starters for the first half will certainly go a long way to winning the starting job.
As Badger fans and NC State fans are well aware of, this guy is straight up butter. He doesn't blink at pressure, in fact he more often than not rises to the occasion under pressure.
We've all heard the knock on him being too short to play the position and we all know how much crap that is because Wisconsin's offensive line is as big, if not bigger and taller than NFL offensive linemen.
The one thing that those thinking he couldn't or wouldn't do it forgot to account for is what likely won him the job tonight - his confidence.
I know, you're probably thinking "What NFL player doesn't have confidence?" and you're right, they all have confidence. But there's a difference between being blown up by those around you and buying into your own hype, which can be mistaken for confidence, and going out and trusting in your preparation and god given ability and just going out and doing it. That's real confidence.
Haters are going to continue to hate on him, and knowing the little I've gotten to be around Wilson last season that's not going to bother him one bit, it'll only add fuel to his confidence in his abilities.
It's only the preseason and all, but I have a feeling NFL fans are about to find out what Wisconsin and NC State fans already know, he's the real deal and he's got a bright future in front of him.
We'll be keeping track of Wilson and the rest of the former UW players in our "Badgers in the NFL" feature each week of the NFL season - giving you the breakdown and the MTB Player of the Week award. So keep it locked in all year as we give you the skinny on the alumni too.