Badgers Hockey Weekend Preview: @ Minnesota State
After it's successful return to the ice in last weekends sweep of RIT the Badgers Men's Hockey team (9-9-2, 4-8-2) hits the road for the 1st time in nearly 2 months as it goes to Mankato to take on the Minnesota State Mavericks (6-15-1, 2-11-1 conf.).
Wisconsin will be looking to not only extend a 2 game winning streak for this season, but also a 4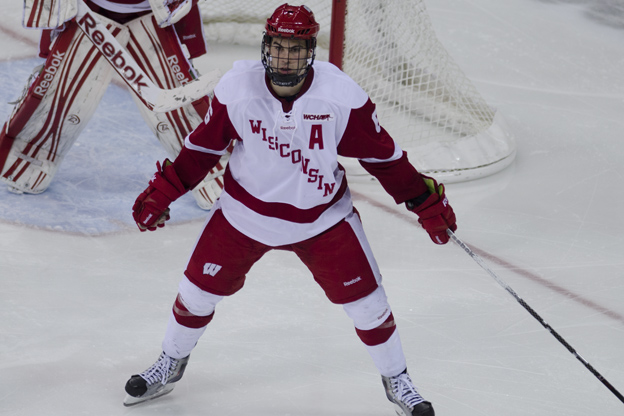 game winning streak against the Mavericks in the series (all in Madison though). Overall the Badgers own a 22-14-4 record in the series as these games mark the 41st and 42nd meetings overall between the two schools.
A four game winning streak is nice and all, but it's also the 7-1-0 record in the last 8 games that gives Wisconsin hope it can start something special in the 2nd half of WCHA play. Right now it's a battle between the 10th place Badgers and the last place (12th) Mavericks that holds great importance if the Badgers want to vault themselves into a spot as a host school come playoff time in the the conference race.
On the ice Minnesota State hasn't been anywhere near impressive as you might of guessed from their terrible overall record. Not a single player is over 20 points on the season and the Mavericks are lead by Freshman Jean Paul Lafontaine (son of former NHL great Pat Lafontaine) who has 19 points and a team high 11 goals on the season. He's only 1 assist behind team leader Matt Leiner who has just 9 for the year.
Just how bad are things for the Mavericks this season? Well, only two players have a positive +/- rating so far and one of them (Chase Grant) has only played in 5 games all season. The other is junior defenseman Evan Mosey with a paltry +1.
As you can imagine goalie play has been a major factor in the bad season for MSU. Austin Lee leads in games started with 16 and also in goals against average at 3.15. He also is the winner in save percentage, boasting a so-so .907 save percentage.
One of the biggest keys to victory last weekend for Wisconsin was the power play and will need to keep that up should they want to win a road game, let a lone a series. Wisconsin has only been able to muster a tie on the road (3-3 @ St. Cloud State) so far this year.
The Mavericks penalty kill hasn't been all that great this season. They are averaging 6.6 penalties a game, while allowing opponents to convert on 21.6% of their opportunities. Wisconsin was 40% last weekend and now hits on 23.5% (24-102) of it's power play chances.
Leading the way for the Badgers are two of the best players in the country this year in Justin Schultz and Mark Zengerle. Schultz is 4th in the country with 32 points, only to be followed by Mark Zengerle at 5th with 31 points. Zengerle is 1st nationally in assists at 23 to go along with his 8 goals on the year.
Zengerle is also the owner of the 2nd longest points streak in school history, now standing at 19 games. Should he get points in both games this weekend he will tied Head Coach Mike Eaves' record at 21 games.
Earlier this week Coach Eaves was asked about the streak and Zengerle, "Well, it's interesting about Mark. In junior hockey, I remember Coach Osiecki going up to watch him play, and he came back with the comment, he just gets points." said Eaves. "You know, you may not notice, but at the end of the game, he's on the score sheet. And he's been that kind of player his whole life, I think."
As for the streak itself? "And, you know, we haven't talked about it. I don't plan on talking about it. Records are made to be broken." stated Eaves. "If it happens, tremendous, because he's helping our team, and that's why records are kept so they can be broke. So I, we're just going to keep moving the way we have."
The biggest question I have going into this series is can Wisconsin get the same performance out of the defense that we saw last weekend. Jake McCabe returned to the ice for his most extensive time since being injured early into the season. It sure looked like the freshman was watching Justin Schultz out there as he scored his 1st two goals of his Badgers career last weekend (both game winning goals). Additionally the Badgers only allowed an average of 2 goals a game, way belwo their season average of 3.2 goals against.
Once again it will be key for the Bagdgers to draw first blood so to speak, as they are winless on the season when they give up the first goal in the game. Luckily the Badgers offense scores 3.25 goals per game (14th nationally) against a Minnesota State defense that gives up 3.6 goals per game, which doesn't even put them in the Top 40 nationally.
While Mankato is a tough place to play for anyone I just don't see a way Wisconsin doesn't break the road losing streak at least once this series and I see a sweep coming in favor of the Badgers as they look towards their goal of home ice in the playoffs.
Predictions: Friday - Wisconsin: 4 - Minnesota State: 2
Saturday - Wisconsin: 3 - Minnesota State: 2